Looking for a team building spot without any risk on being poured over with rain? Or craving for a quick escape from routine for at least your lunch break? 🤔 In that case, here I have a suggestion for you. Last week we tried out this great deal that @olearysvilnius is now offering during business lunch hours: book your lunch table in advance in their website www.olearys.lt with code #PietautiSmagu and you'll get one activity for free (ability to choose out of bowling 🎳, table curling or darts 🎯). Besides this deal, they are also giving out a lot of prizes on their facebook page, so go check it out 😉.
Coming back to our experience on spending our lunch break at O'learys, one thought only – was a splendid time spent and I would definitely repeat it again 🥰! You can eat while you play or you can eat and then go bowling. You can choose out of 4 business lunch dishes (BBQ pork ribs, cheddar cheeseburger, Kiev cutlet, Cesar salad, which costs 5 euros each) or you can choose out from their big a la carte menu.
For starters, we got soup of the day (it was sauerkraut soup) and cold beetroot soup.
And as persistent meat lovers, for the second round we chose BBQ ribs and the cheeseburger🍔.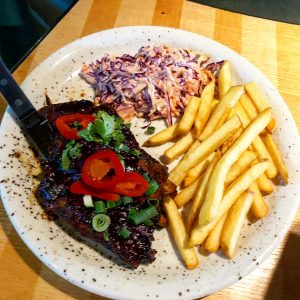 Could only say that it was the perfect choice together with their refreshing drinks – home made passionfruit lemonade and virgin Aperol spritz 🍹 (after all, it's still a working day).
All these last times, during our visits, O'Learys really surprised us with their chef's skills, cause the food was rich in taste and portions were large 🤗. P.S. I am still craving for those parmesan and garlic wings from the last time, so will need to get back.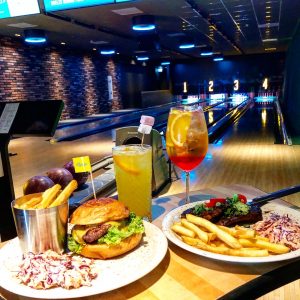 #olearys #olearyslietuva #akropolis #akropolisvilnius #vilniusnow #vilnius #lietuva #maistas #skanu #dienospietus #bowling #teambuildingideas #komandosformavimas #sportbar