Just last week we had Gastro Week in Vilnius👩🏻‍🍳 So for that occasion, we chose to try out @pinkyellowvilnius (next to @hiltongardeninnvilnius )!
Their tasting menu for 20€ option was: taco con carne (beef cheek, gyro caramel, sofrito, red onion marmalade, guacamole, peanut crumbs); main course – beef cheek (red cabbage, mole, potato puree, dill snow) OR butterfish (risotto with pumpkin cream, wild puffed rice); for the dessert – banana cremeux with gold dust (caramel with rum, crispy bananas, hazelnut and bergamot cream).
Tacos were wonderful, as the dish brought us a wide pallet of tastes: avocado, sweet onion, caramel, peanuts and some softly hot tomatoes 👌👌.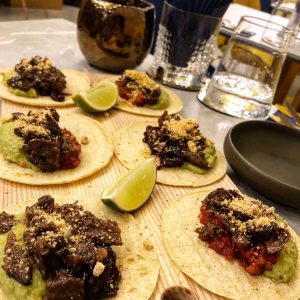 For the main course we chose fish (the 1st picture in this article) and beef as well:
Again, a variety of feelings in one bite. The beef was marinated in beer, but surrounded with chocolate and beetroots, so a mixture of bitter sweet. Potato puree might seem boring 🙄, but was actually surprisingly supplemented with nutmeg.
And finally the dessert 🍰! Was once again 😄😄, a mixture of sour and sweet banana. Was very fancy because of those gold dusts, which actually was matching with all the gold and yellow modern interior.
Might seem strange that the restaurant is called @pinkyellowvilnius , though we can't see any pink in the restaurant 🤔 but don't be fooled, because their 'pink' is in the sky ☝️😄😄.
They have a wonderful and kind of unique bar on the rooftop with large and green terrace! Will definitely have to do a separate review on the bar in summer time 😉 .
But hey, comment if you have visited any restaurants during Gastro Week? If yes, to which ones?
#eatoutvilnius #vilniuscityvibes #vilniusvibes #restoranas #restoranai #restaurantvilnius #foodreview #restaurantreview #visitvilnius #tripadvisorvilnius #tripvilnius #gastronomijossavaite #gastroweek