Looking for a good rib restaurant in Vilnius? Then @ribroomvilnius should fall into your target list 🥩. They probably have the biggest variety of different tastes of ribs in one place 😱. 9 options of ribs, that's the number, from which anyone can easily find their favourite type. Here we chose mixed ribs plate (famous glazed pork back ribs with Teriyaky-sesame sauce, spicy barbecue spare ribs with hot jalapeño sauce, lightly smoked pork back ribs with red wine sauce and crispy pork spare ribs Oriental style with sweet chilli sauce), which costs 26€.
We loved this opportunity to try different tastes at once 🥰 sadly, this was not our best day or our ribs batch… The meat was too tough and did not fall from the bones itself 🤷‍♀️😕. Alongside, you can choose out of 11 options of side dishes (3€ each), so we chose fresh salad, creamed spinach, stuffed baked potato and potato gratin.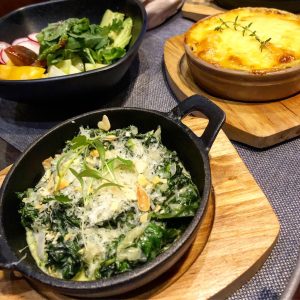 Fresh vegetables and potato side dishes were perfect fit for the ribs 👌, though creamed spinach was too bitter.
More to that, everyone received chef's compliment – beef cheeks beignets and sweet&sour chicken shoulders 😍.
For snacking time, we picked antipasti collection of home made Italian meats, nuts, cracker, cheeses, marinated olives and jam. The antipasti was highlighted the quality of food in this restaurant, as most of the snacks were home-made and delicious 🤗.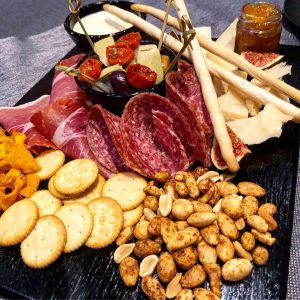 For dessert – meringue roll with berries sorbet and a selection of ice cream (mint and chocolate, berries, orange and chocolate).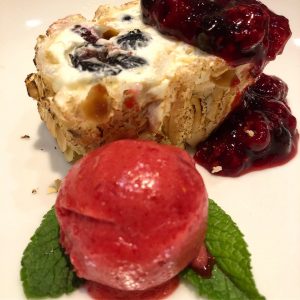 The staff was very professional and ready to advise on any dish. 👨‍🍳 To resume, would love to come back to try out their gourmet courses, such as Iberico pork ribs, Prime American boneless short ribs or aged beef short ribs.
#eatoutvilnius #vilnius #ribroom #ribroomvilnius #30geriausiurestoranulietuvoje #bbqribs #orientalribs #glazedribs #bbqribs #smokedribs #meat #restoranas #tripadvisor #travelvilnius #restaurantreviews #restoranuapzvalga #vilniuscity #wheretoeat #wheretoeatvilnius #foodreview #foodcritic #restaurantcritic #restaurantblogger #appetizers