Eat Out Vilnius is eating out of Vilnius 😃. Last week we visited Kaunas and we went to @vista_puode, as our followers recommended. After this visit, we wanted to ask only one question: when they will be opening in Vilnius? 😩😂 Really nice place, very cosy and family/children-friendly. 
An old fashioned Lithuanian dishes prepared in a modern and different way. We enjoyed it a lot and we recommend bringing your foreigner friends to this restaurant 👌.
In the first picture, there's the epic Lithuanian dumplings.
Also, here below, it's cutlets: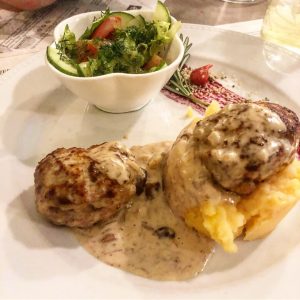 Samogitarian pancakes:
Fried bread and home made lemonade 🍹:
#eatoutvilnius #kaunas #vištapuode#lithuania #food #pancakes#dumplings #cutlet #lemonade#foodporn #foodblogger #foodblog#blogger #blog #foodreview#foodcritic #instafood #foodlover#foodie #foodstagram