Another place for Sunday brunch. This time, it's vegan again, not even vegetarian, so if we go without food products of animal origin, we go all in 😃.
We tried this brunch @botanique.maistonamai, 🥗 since there are still not so many vegan brunch choices in Vilnius. We were charged 12€/per person and even if it looks like decent price for Swedish table brunch, we were still wondering 'is it worth it?' all the time.
We found only few good meals there: vegetables teriyaki, soup and hummus. Those three were really tasty and filled our bellies nicely and hummus was even one of the best in town!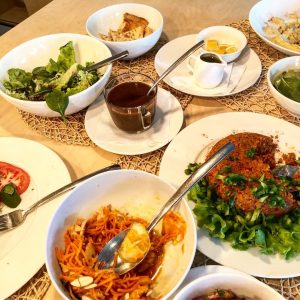 Though, all other dishes were like simple salads or misunderstandings for us (no name tags next to plates) 🤷‍♀️.
One more positive thing for them, they also have sweet table with fruits and cakes 🍰.
Interesting experience 👌, but raw and vegan dishes cal also be made tastier with certain spices and cooking methods ✌️.
#eatoutvilnius #eat #out #vilnius#lithuania #sundaybrunch #brunch#vegan #raw #vegetarian #greenfood#hummus #review #foodreview#foodblogger #blogger #foodblog#foodlover #foodreview #foodcritic#restaurantcritic #restaurantreview#foodpassion #instafood #foodie#foodpics #visitvilnius #tripadvisor