Business lunch at @restoranasgrey 🍽.
Gaspacho soup was practically made out of vinegar and garlic only.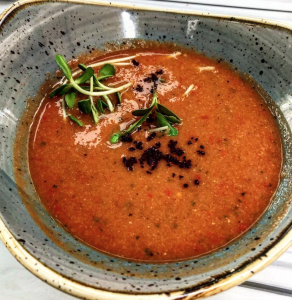 For the second course we chose slowly stewed duck with caramelised beetroot. Pretty interesting fight between sweet beetroot and salty duck. Sadly, the duck with all its salt won and for the rest of the day we were feeling thirsty, as if we were partying last night till the morning.
#eatoutvilnius #eatout #vilnius#blogger #food #foodblogger#foodporn #duck #bertroot #gaspacho#grey #businesslunch #instafood#terrace #oldtown #vilniusoldtown#lithuanian