If you are one of those people, who don't want to let go summer just yet, but is already looking for a warmer corner, @masongastropub has a very cosy, greenery and heated terrace.
We visited the gastropub just this week and tried out their dinner offers (besides that, they have breakfast menu on weekends 🥞🥓🍳). For the dinner we chose bruschettas as a starter (one option with shrimps and pepper, the other was with chanterelle and camembert):
Seasonal cauliflower soup with cheese: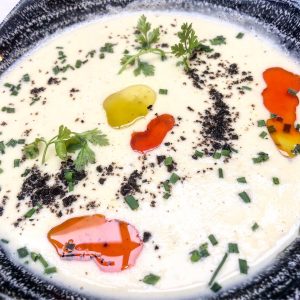 Salad with duck breast (including walnuts, blue cheese, honey-mustard dressing, peach and strawberries):
And octopus with sweet potatoes puree, cherry tomatoes and broccoli (seen in the 1st picture of this article).
For the desserts we chose hot chocolate cake and cheese cake:
The food was actually average 🤷‍♀️ bruschettas were indistinguishable and rather pale; the cauliflower soup was warm and filling, but too salty; duck salad had so much fruits, that one could be confused if this was fruit salad or meat 🤔, the octopus was also just ok and had too much of broccoli on the plate.
Nevertheless, the place is definitely worth to visit because of their charming staff and the magical terrace 🌿🌿🌺.
#restoranas #gastropub #masongastropub #restoranuapzvalga #restaurantreviews #eatoutvilnius #vilniuscity #wheretoeat #terracevilnius #octopus #bruschetta #chocolatecake #foodie #foodreview #eatout #visitvilnius #apzvalga #foodcritic #autumnvilnius #tripadvisor