Had a great party yesterday and wondering where to recharge with some comforting food? Well, we could suggest you to try out @beerhouseandcraftkitchen ! 🍺 As they can offer like million types of beer and more to that, this fulfilling food, the exact what you are looking for, when hangover strikes 😂. AND, I haven't mentioned yet the very interesting thing for foodies – they are switching these special tasting menus designated for each of the country, which is characterised by long-live brewing, traditions and beer culture.
Thus, we got into Tasting Great Britain period and we tried out pulled-pork starter (french fries with pulled-pork, cheddar, home-made mayo, chilli peppers and jalapeños) (seen in the picture above); English breakfast 🍳 (served all day) including nuremberg sausages, bacon, eggs, beans, grilled portobello, grill tomatoes and focaccia:
Then, the all English classic – fish & chips: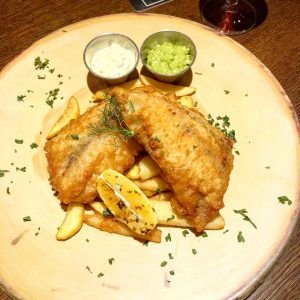 And for the end, we tried English pudding with fig, caramel sauce and vanilla ice cream:
We flushed everything away with non-alcoholic ginger beer and raspberry British lemonades:
Boy oh boy, we needed to really roll ourselves out of this cellar. We were so filled and so full that we promised, we just have to come back and try out the other tasting menus 😆.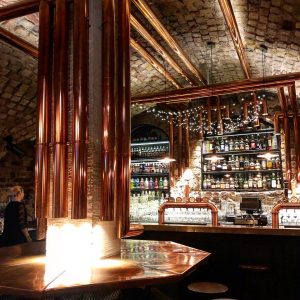 #eatout #vilnus #eatoutvilnius#lithuania #vilniusoldtown #vilniusvibes#craft&kitchen #vilniuspub #beerhouse#foodreview #restaurantreview#foodcritic #restaurantcritic #foodlover#beercraft #craftbeer#restaurantblogger #englishbreakfast#fish&chips #englishpudding#tastinggreatbritain #tastingmenu