Some of our readers may have already noticed, that we reaaaaally love burgers 🍔. @wolt.lietuva has a lot of options for burger restaurants, but from those, who we haven't tasted yet, @burger_street_lietuva seemed to have the biggest variety of this tasteful dish 🤩. Fourteen options for burgers (including vegetarian) and bbq snacks 😮. Was difficult to choose, since I WANTED IT ALL! 😄
Though, eventually, we ordered Tennessee pulled pork burger and Brooklyn burger with potatoes and sauce.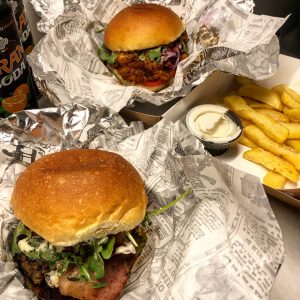 Both came packed carefully and were still warm. Buns of burgers were soft and both were very juicy. Pulled pork burger took a strong note of bbq, whereas in the Brooklyn burger, blue cheese 🧀 was the main highlight.
Definitely recommending to order with potato chips and their sauce.
#wolt #burgerstreet #supportlocalrestaurants #supportlocalbusiness #eatoutvilnius #foodreview #takeout #takeaway #burger #burgerlover #pulledporkburger #bluecheese #burgertime #burgersandfries #burgersofinstagram #burgerandfries #burgerlife #foodathome