Here's a good and healthy idea for you – salads for lunch, preferably to be eaten outside, or at least in your balcony 🌞. Healthy can be tasty too! So there, I said it 😄 because recently I'm in love with healthy choices, just like these @freshpostlt salads 🥗, ordered from @wolt.lietuva.
This time we chose chicken + bacon (with honey mustard sauce):
And smoked cottage cheese + pears (with yogurt and mango sauce) salads:
Besides that, we grabbed one of their famous smoothies, called 'Šarmingasis' with orange, banana, melon, pineapple, almonds and ionised alkaline water.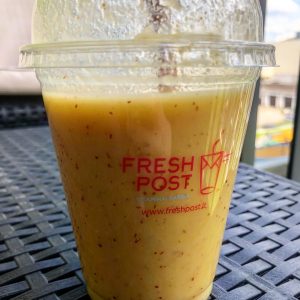 What can I say – it feels great to eat healthy and delicious food at the same time. A great way to make your day and to recharge good energy🔋.
#supportyourlocal #freshpost #wolt #woltlietuva #eatoutvilnius #vilnius #maistas #salotos #skanusmaistas #sveikasmaistas #saladgoals #foodblogger #foodreview