OK, this is the first time I am making a second post in my feed about the same restaurant . And the reason for that is their strong improvement in food taste, quality and in servicing speed 👌👏. As they say, time heals wounds, so that really worked for @olearysvilnius! We visited them this week and we were actually more than satisfied about all the defects which we noticed before, when they were just recently opened.
This time we tried parmesan and garlic wings 🍗 (seen in the 1st picture of this article) + beef tacos 🌮 as starters.
Wings were really rich in taste: covered in lots of parmesan and garlic sauce. Tacos also did not disappoint us, as the taste was fresh from feta, red onion, lime and vegetables, but also savoury from BBQ beef.
For the mains we had roasted salmon with lots of vegetables (sweet potato puree, corns, spinach, carrots and shrimps🍤) and very smokey bbq ribs🍖 in bourbon sauce with coleslaw and french fries.
We ended our dinner with little donuts 🍩 alongside some raspberry jam and ice cream.
The whole dinner was a full delight with their home made passionflower lemonade! 🥰
After such a fulfilling meal, don't forget to try out their entertainment corner: VR, bowling, pool, darts, table Kerling. We tried team play in VR, which was a total fun! 😄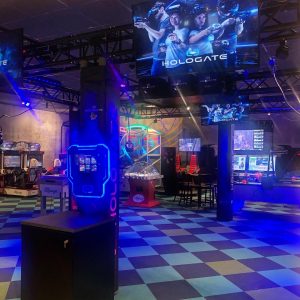 #olearys #akropolis #akropolisvilnius #eatout #eatoutvilnius #vilniusvisit #wings #bbqribs #roastedsalmon #beeftacos #vrgame #skanusmaistas #maistas #vilniuscity #vilniusnow #skanusmaistas #restoranaivilniuje #kurpavalgytivilniuje #wheretoeat #wheretoeatinvilnius