Looking for some historical vibes in Vilnius old town? @senatoriai restaurant is placed in Tiltas street, which in the 16th century was actually called Senators street. The restaurant is working for over 30 years already and can take you through the time-tested journey of tastes.
We started our Saturday dinner with appetisers: potato pie (šimtalapis) with smoked seasonal fish, onion, vinegar syrup:
 And fried cheese balls with citrus fruit mayonnaise:
Both dishes were very filling, though citrus fruit mayo was refreshing 👌🍋🍊. After starters, we moved to main meals and this time we chose duck breast with beetroots, cherries, nuts and chicken shoulder cutlet with broccoli purée, oyster mushrooms and wine sauce: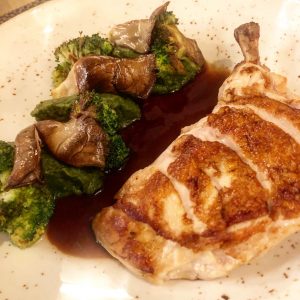 The duck breast looked very unusual, we were surprised by yellow beetroot (sweet) and cherry (sour) combination 👌. The chicken cutlet was also looking appetising, chicken broth with wine made it juicy and rich in taste.
We finished our dinner with pumpkin pie (including Italian meringue and pumpkin seeds):
The dessert made us feel the upcoming Christmas spirit, as it included ginger 😌. All in all, we were glad about this Fall evening spent under a creeper plant 🌿. Go see yourself and try out their new menu!
#eatout #vilnus #lithuania #vilniusoldtown #vilniusvibes #restoranas #senatoriai #senators #foodreview #restaurantreview #foodcritic #restaurantcritic #foodlover #duckbreast #chickencutlet #foodblogger #restaurantblogger #eatoutvilnius