Finally, that day came, when we can eat in cafés and restaurants 🎉 ! Well, at least in terraces. For this special occasion, we chose to visit @restoranasgabi. We had a wonderful sun ☀️ this Saturday, so it was a great mood for brunch. And it appears that Gabi has a special menu for brunch. Here I come, Bennies! 😁
But first things first, when we came there, we were fascinated by their inner garden. The restaurant was established in 1994, so you can see that the owners were putting a lot of effort to acquire all that exhibition. I would even call it a museum exhibition, because there are so many vintage things, like old stationary telephones, household supplies and even a statue of Leonard Cohen! 😲
So, we were sitting in this closed (but very sunny) inner garden, which is placed in the heart of Vilnius Old town.
And getting back to the food topic, we were craving for that brunch mood (having it not at home), thus we took three main brunch dishes: eggs Benedict 🍳, English breakfast and curd pancakes.
The eggs were very tasty, served on a brioche bun, that's why it was a bit sweet, but opposed by salty bacon.
The portion of English breakfast was very appropriate 👌, because in most of the places, when choosing this dish, you'd hardly stand up. Sometimes it's too harsh to rape your stomach like this, although at Gabi, the size of English breakfast seemed to me very decent, 'cause the food itself is very fulfilling.
We also love the curd pancakes, which were fluffy and served with fresh berries 🍓.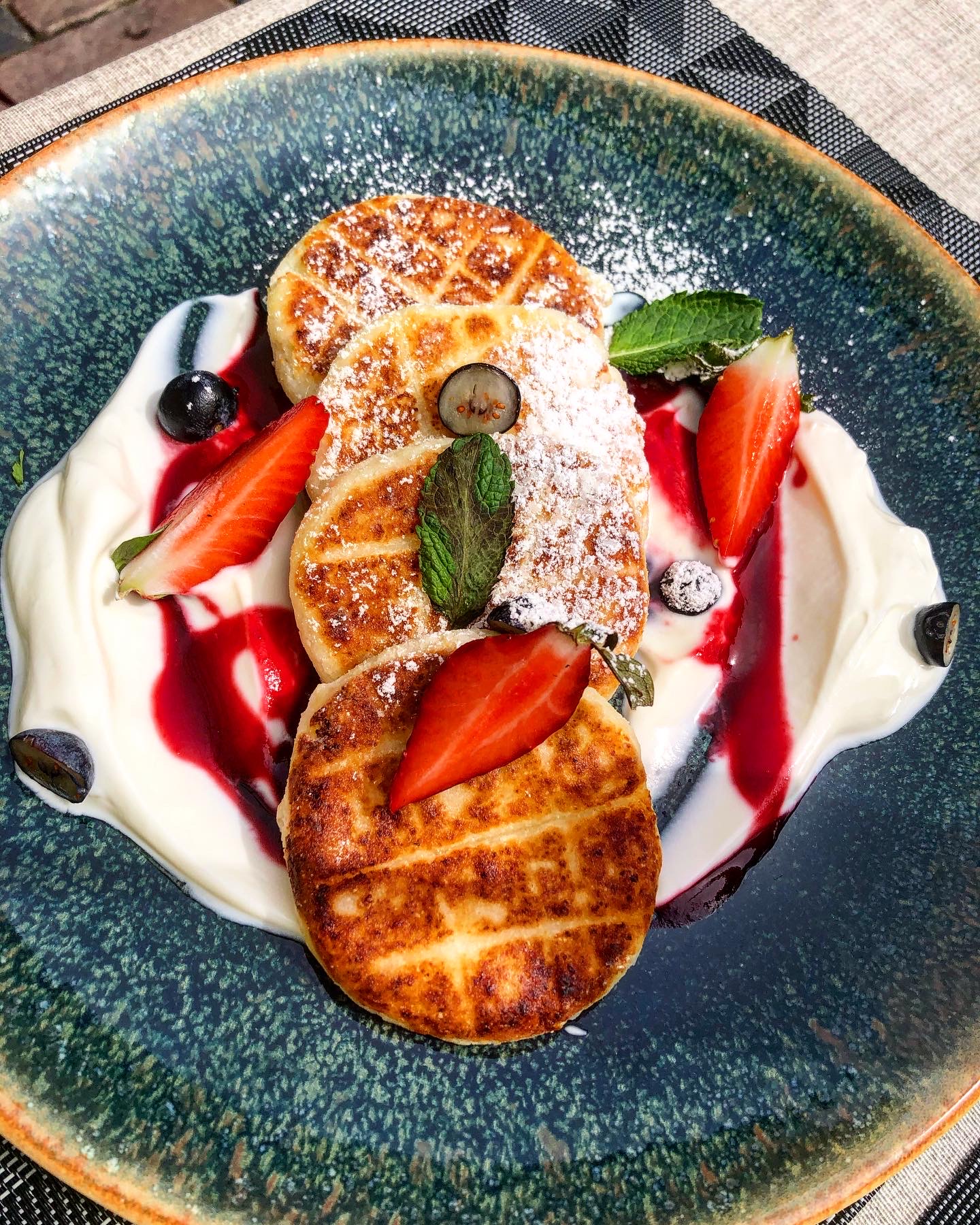 And of course, no brunch can be successful without a good coffee and a Mimosa 🥂. That was our perfect weekend morning and we are wishing everyone to come, enjoy the food, the environment friendly service and create such vibe yourself. 🤗