New hot spot for food lovers – Vero Cafe in Elektrenai
A well-known coffee shops chain – Vero Cafe is celebrating 15th anniversary this month. Can you believe how time flies? 🤗 On this occasion, we wanted to visit them and their newly opened spot in Elektrenai only stimulated our wish. We were having a weekend trip through Lithuania 🚙 and we planned to stop by in Vero Cafe Drive Thru Elektrenai, which is located in the highway of Vilnius-Kaunas-Klaipeda.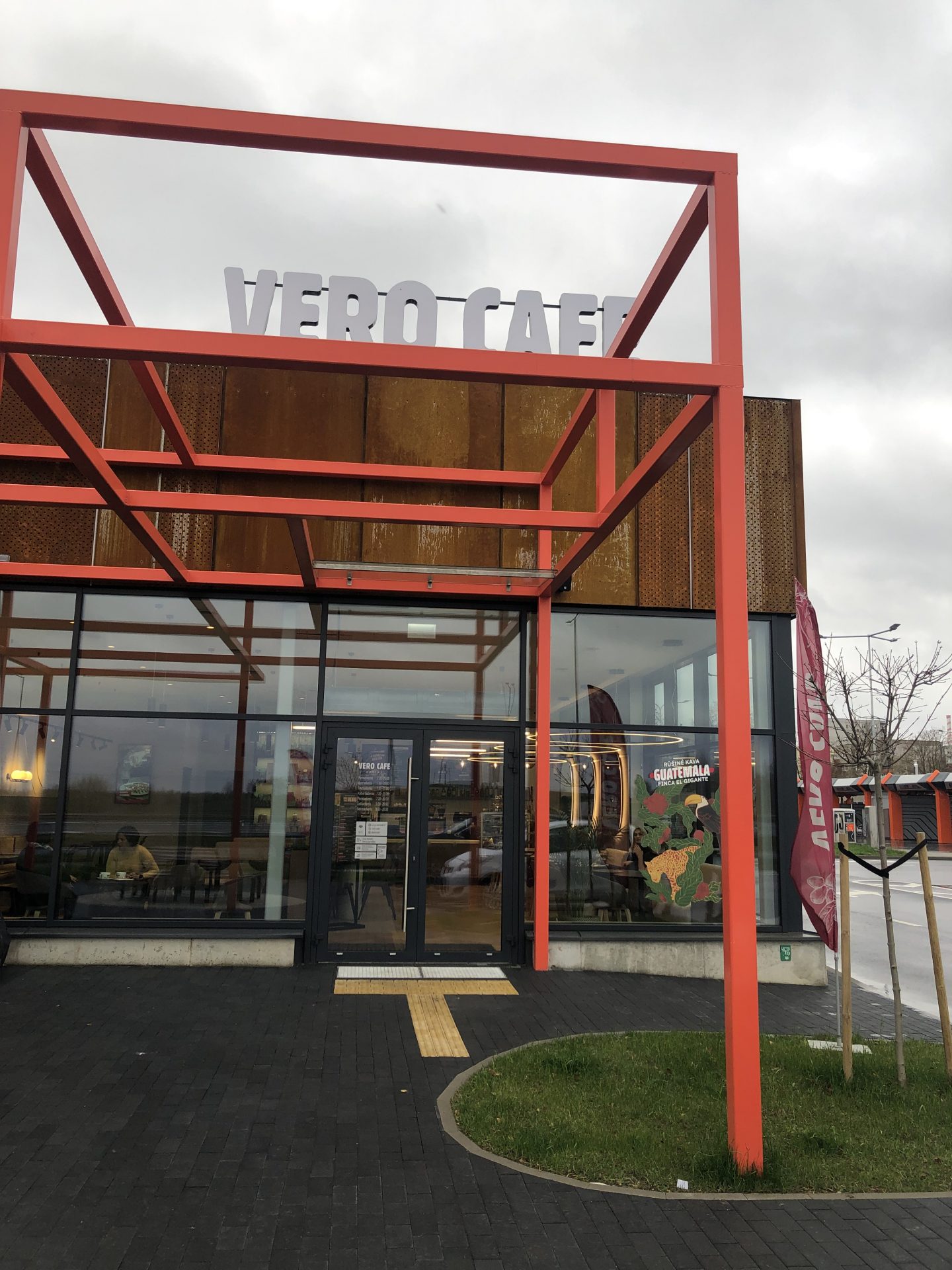 The place welcomed us with cosy, new, modern and bright interior as well as smiling baristas.
By the way, "Drive Thru" in this place's name is not only for unknown reasons, you can actually stop by the window and just grab your coffee and snacks. Even though, we really wanted to check the whole place. And if you didn't know (from our friends' reaction I'm guessing there are a lot of people, who don't know), Vero Cafe started serving breakfast dishes all-day and not only coffee with snacks/desserts quite some time ago. That was a huge plus for us, of course. You can find their breakfast menu in these places:
📍 Vilnius:
VCUP Konstitucijos pr. 16
Her Excellency by VERO Cafe Gedimino pr. 44a
📍 Kaunas:
VERO Cafe Drive In Savanorių pr. 443
Her Excellency by VERO Cafe K. Donelaičio g. 60
📍 Elektrenai:
VERO Cafe Drive Thru – Sabališkių gatvė 1u
And so, we ordered 😀, quesadilla with beef:
Crepes with chicken:
Eggs Benedict with salmon:
(Non)Caesar salad with vegan nuggets:
French toast:
Curd pancakes with yogurt and home-made raspberries jam:
And zucchini pancakes with salmon and curd sauce:
We definitely loved that everyone found their top dish and that was not necessary the same for everyone. Meaning, that everyone coming here will find a great option to suit his/her taste. My favourite – crepes with smoked chicken, cherry tomatoes salsa and avocado sauce as well as wonderfully delicious French toast with creamy sauce inside and raspberry & whipped cream aside!  💖 Superrrrb! Meanwhile, our friends were most impressed by zucchini pancakes, which hadn't sound anything promising before trying them. Although, were actually very fluffy and rich in taste. Thus, no negative feedback on food from our side, everything was simply tasty. ✨
One more thing left to say – coffee, of course! Before starting our food, we tasted coffee made in chemex.
Actually, we have tried this way of producing coffee drink before and every time we like that you can feel the additional, true coffee flavours. ☕ We've also tried Vero Cafe and Genys collaboration – porter made with Tonca coffee beans.
And after the mains, we tried cappuccino bon bon, royal latte and matcha latte. As well as cinnamon bun, Oreo bun, cheesecake and spinach-strawberries cake. Our flavours were once again different from each other, and we still found our favourite desserts.
Loved the place and will definitely come back!  ❤️