If you are thinking to take a bite at newly opened @olearysvilnius at Vilniaus Akropolis – don't ❌. At least for half a year or so. That's our recommendation after few visits at this chaotical food & entertainment place.
Yes, this sport bar is all new and the concept seems nice ⚽️🏀 (being able to play bowling, VR, pool, etc., watch sports match and eat at the same time), though the realisation of this idea went not as perfectly, as we could expect. Already mentioned that the place is chaotic 🤯 and that's because a flow of people is circling there, including visitors and staff. We lacked some decent organisation when booking time for a game or ordering food. First of all, we were not really sure where to make a booking, then we found the cash register, but all the staff was very busy running around; finally, we were told that someone by a mistake had already took our bowling alley and no available time is left.
Speaking about food, that didn't impressed us as well. Ordered cheddar burger 🍔 with coleslaw and fries, and Buffalo wings. The burger was average and coleslaw was pathetic (see in the photo, it says it all).
Buffalo wings 🍗 were also not as expected. It seemed like a desire to make the popular dish, which actually went out as simply sweet wings.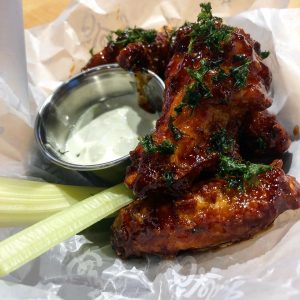 I guess we still need to give some time for this place to get there 🤷‍♀️.
#eatoutvilnius #vilniuscity #vilniusvisit#akropolis #lithuaniafood #restoranas#maisto #maistas #foodreview#restaurantreview #vilnius🇱🇹#buffalowings #burger #foodcritic#restaurantcritic #foodlove #visitvilnius#wheretoeatvilnius #vilniustourism#vilniusnow #wheretoeatlithuania#wheretoeatinvilnius #olearys